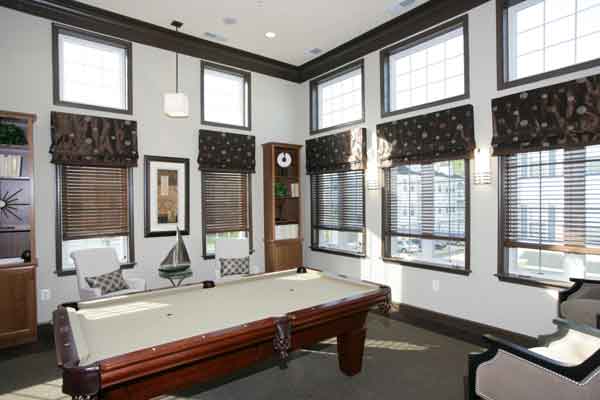 St. Margaret's Community Billiards Room
The Billiards Room is open to residents and guests during the time that the Clubhouse is open, normally from 5 AM until 11 PM. On Tuesday evenings however, the hours of 6:30 – 10:00 PM is set-aside only for the Billiards Tournament Players. Occasionally, the room may also be set aside for another community function.
Please read the rules as posted at the entrance door to the room, and remove all trash that you or guests may have accumulated. We thank you for that consideration.

FOUR SEASONS IN ST. MARGARETS CLUBHOUSE
BILLIARD ROOM RULES AND REGULATIONS
1. Residents MUST be present during their guests use of the billiard room.
2. No food or drink is allowed on the billiard table, even while covered.
3. There will be no removal of, or addition to, any existing equipment in the billiard room.
4. If others are waiting to use the table, limit play to one half hour.
5. Use of the billiard table may be blocked for community tournaments or other needs.
6. When you are finished playing and no one is waiting to use the table, please clean off the chalk from the billiard table with the brush provided, and return the cue sticks to their proper location and cover the pool table.
7. Should any resident encounter a problem with the pool table or other equipment, please note the incident in the sign-in book and notify one of the clubhouse building captains.
8. Residents will be held responsible for property damage caused by themselves or their guests.
9. MINIMUM AGE RESTRICTION: 16 years old